• ALL OPTICAMESH PRODUCTS ARE EXTREMELY TOUGH, LIGHT WEIGHT, FLEXIBLE, HIGH IN TENSILE STRENGTH AND EASY TO WORK WITH.

• THESE PROPERTIES MAKE OPTICAMESH AN IDEAL ENGINEERING MATERIAL FOR CONSTRUCTION INDUSTRY


TEST RESULT
Maximum Load of Fabric (N)
WARP
WEFT
1109.1
2102.0
OPTICAMESH – Where?
OPTICAMESH is used where two materials with different coefficient of expansion come together (joints of Masonry, RCC, Stone etc) OPTICAMESH absorbs Tension and forms a Flexible, yet Extremely Tough Durable layer with in Plaster, Facilitating adherence to variety of Masonry Materials, . Unlike Metal or Plastic based alternatives (Chicken Mesh) OPTICAMESH does not break down due to Corrosion, easy to use, pliable, cuts effortlessly and lies flat. OPTICAMESH exceeds all the requirements on Tensile Strength and resistant to Acid, Salts, Water and Alkali. OPTICAMESH comes with Alkali Resistance properties and provides Reinforcement against Impact.
APPLICATIONS OF OPTICAMESH
OPTICAMESH is very useful where two Materials with different coefficient of Expansion come together (Joints of RCC, Masonry, Stone etc.)
Areas prone to Aggressive Atmosphere, Impacts and Seismic activities.
Artificial Rock Building, Mosaic and Marble back mounting.
Architectural Object Constructions.
Industrial Flooring, Plasters, Insulations and Tensile Reinforcement for Special Structures and Construction Members.
Repairs and Structural Retrofit.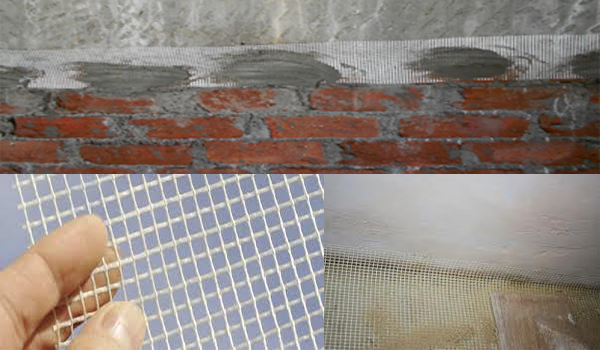 OPTICAMESH IS USED WHERE TWO MATERIALS WITH DIFFERENT COEFFICIENT OF THERMAL EXPANSION COMES TOGETHER ( JOINTS OF RCC, MASONRY, STONE ETC ) BOTH EXTERNAL AND INTERNAL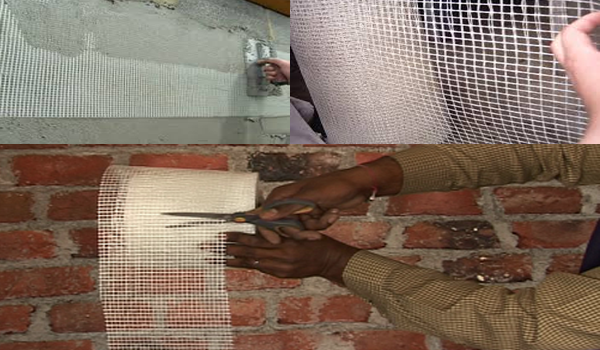 TOUGH DURABLE LAYER IN PLASTER, FACILITATING ADHERENCE TO VARIETY OF MASONRY MATERIALS. UNLIKE METAL OR PLASTIC BASED ALTERNATIVES ( CHICKEN MESH ) OPTICAMESH DOES NOT BREAK DOWN DUE TO CORROSION OR BREAK. EASY TO USE, CUTS EFFORTLESSLY AND ZERO LEVEL FIXING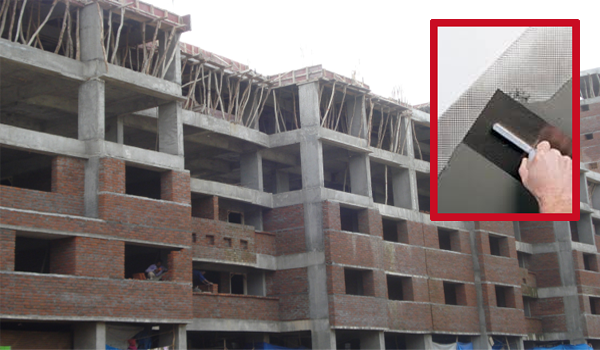 AREAS PRONE TO AGGRESSIVE ATMOSPHERE IMPACTS AND SESMIC ACTIVITIES. SWIMMING POOLS • ARTIFICIAL HILLOCK • ARCHITECTURAL OBJECTS (MURAL) OPTICAFIBERS AVAILABLE AS FIBER BUNDLE TRANSFORMS IN TO MONOFILAMENT WHEN CONTACT WITH MOISTURE/WATER. 3 OPTICAFIBERS ARE VERY USEFUL FOR CONCRETE, MORTARS, ROADS, INDUSTRIAL FLOORING, CEMENT AND CEMENT ARTICLES, PRECAST WORKS, CRACK PREVENTION, FOR ENHANCEMENT IN TENSILE REINFORCEMENT etc.
OPTICA Mesh application Methodology.
First thoroughly clean the surface where the mesh to be applied between wall and the column or beam.
Cut the required length of Optica mesh to be applied.
Make a required cement paste (may be two kg) at a time
Wet the surface with water where the mesh to be applied.
Keep the OPTICA Mesh in between the wall and beam or column at zero level, with the help of two men.
Paste with cement on the mesh both up and down. Leave it to dry.
ALL OPTICAMESH PRODUCTS PASSES THROUGH A LIQUID BATH PROCESS TO DEVELOP ALKALI RESISTANCE, WHICH IS VERY IMPORTANT FOR CEMENT BASE APPLICATIONS (AS CEMENT IS HIGHLY ALKALINE MATERIAL)
OPTICAMESH EXCEEDS ALL THE REQUIREMENTS ON TENSILE STRENGTH
RESISTANT TO ACID, SALT WATER & ALKALI.
PROVIDES REINFORCEMENT AGAINST IMPACT,
BENEFITS OF OPTICAMESH PRODUCTS
OPTICAMESH PRODUCTS PERFORM AS "SOFT STEEL" IN CONSTRUCTIONS. DISTORTION MINIMIZED BECAUSE THE STRESS IS EQUALLY SPREAD IN DIFFERENT DIRECTIONS.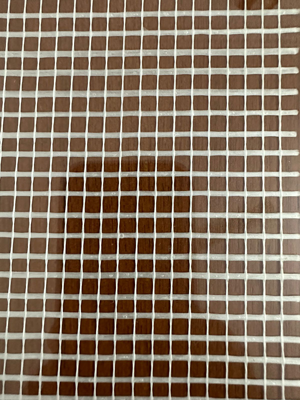 DUE TO ITS INORGANIC NATURE OPTICAMESH PRODUCTS DOES NOT SUPPORT COMBUSTION. THEY ARE ABLE TO WITHSTAND ELEVATED TEMPERATURE. (SOFTNING POINT 775 *C)
OPTICAMESH PRODUCTS ARE NEITHER ATTACKED BY MOST CHEMICALS NOR ADVERSELY AFFECTED BY FUNGUS, BACTERIA OR INSECTS.
OPTICAMESH AND OPTICAMESH WP ARE NOT ABSORBENT AND THEREFORE NOT PRONE TO SWELL, CORRODE, ROT OR DISINTEGRATE.
THESE PROPERTIES ARE VERY USEFUL FOR JOINTS AND WATER PROOFING.
OPTICAMESH WP (water proofing)
OPTICAMESH WP is a thin, flexible, light weight, High in Tensile Strength, pliable, cuts effortlessly, lies flat and easy to use material make from glass. These Properties make OPTICAMESH WP an ideal Materials for Water Proofing (terraces and sunken areas), Gypsum plaster reinforcement, crack prevention etc. OPTICAMESH WP is Resistant to Acids, Salts, Water, Fungus, Insects and Alkali. Construction Members are Stressed due to continuous Temperature variations. The Water Proofing layers should have a High Tensile Strength and OPTICAMESH WP is very useful for Gypsum Plaster because of Flexibility, Strength and improvement in Workmanship.
APPLCAITONS OF OPTICAMESH WP
Water Proofing of Terraces, Sunken Slabs, Balconies and Water tanks
Gypsum Plaster.
Crack Repair and Crack Prevention.
Plaster reinforcement (internal and external).
Walls with channel for electric wire and water pipe.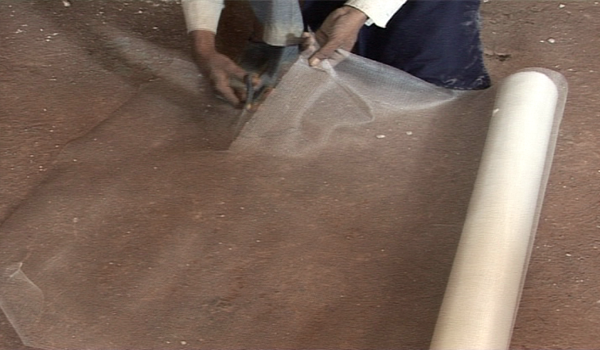 OPTICAMESH WP IS A THIN, FLEXIBLE, LIGHT WEIGHT, HIGH IN TENSILE STRENGTH, CUTS EFFORTLESSLY, LIES FLAT AND EASY TO USE.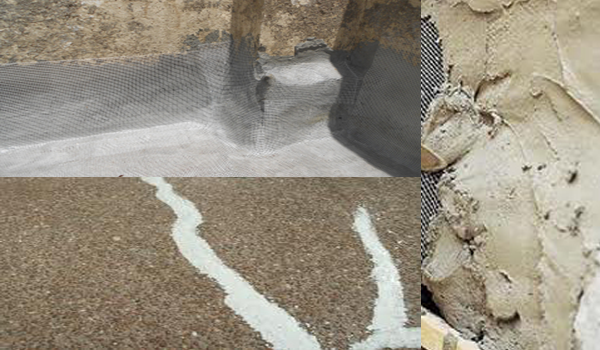 OPTICAMESH WP IS USED FOR WATER PROOFING, GYPSUM PLASTER REINFORCEMENT, TILING, CRACK REPAIRS & CRACK PREVENTION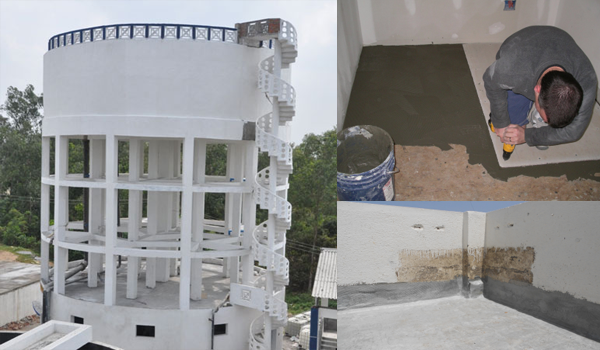 OPTICAMESH WP IS USED FOR WATER PROOFING OF TERRACES, SUNKEN SLABS, BALCONIES AND WATER TANKS.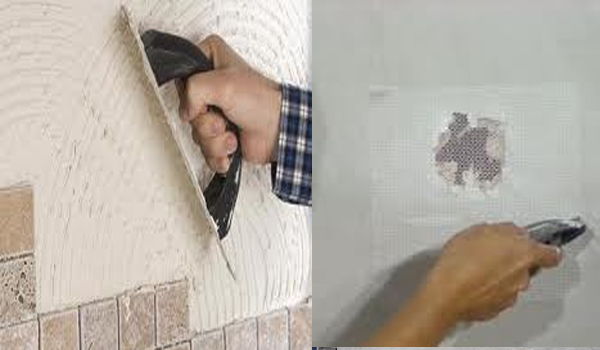 OPTICAMESH WP IS RESISTANT TO ACIDS, SALT WATER, FUNGUS, INSECTS AND ALKALI. CONSTRUCTION MEMBERS ARE STRESSED DUE TO CONTINUOUS TEMPERATURE VARIATIONS.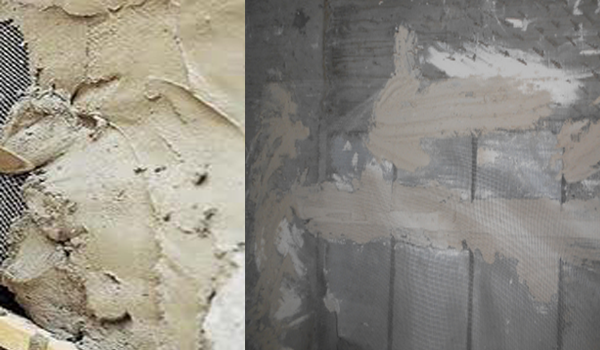 OPTICAMESH WP IS VERY USEFUL FOR GYPSUM PLASTER REINFORCEMENT BECAUSE OF FLEXIBILITY, STRENGTH AND IMPROVEMENT IN WORKMANSHIP.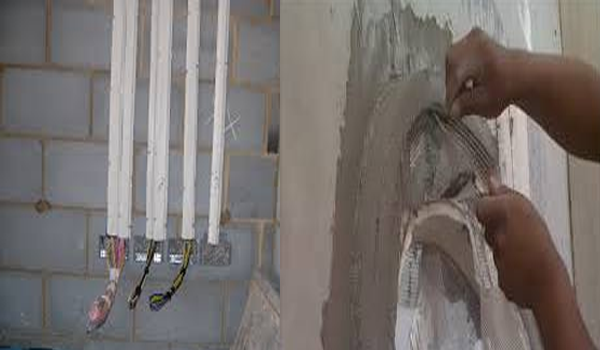 OPTICAMESH WP IS USED FOR CONCEALED PORTION REINFORCEMENT.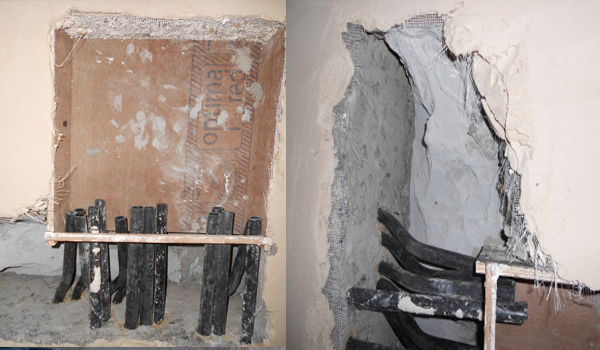 OPTICAMESH WP IS USED FOR WALLS WITH CHANNEL FOR ELECTRIC WIRES AND WATER PIPE.
OPTICA Glass Fiber Mesh – WP - Application methodology (for water proofing)
Clean the surface with wire brush and then sprinkle water and clean for dust free surface.
Apply the first coat of water proofing chemical and allow it to dry, before applying for the second coat, clean the surface with dry soft cloth and lay 45gsm one meter width roll of Optica glass fibre mesh WP on top of the first coat and apply the second coat over it with the water proofing chemical on the WP-Mesh and follow with the third coat after drying of the second coat.
An Optica Glass fiber acts as secondary reinforcement, thus making the coat stronger and durable.
It will form a strong layer on the floor thus making it stronger water proofing solution for your Terrace and sunken portions in your construction.
BENEFINTS OF OPTICAMESH PRODUCTS
OPTICAMESH and OPTICAMESH WP are Engineering Materials, that improves quality, Durability and Service life of Structure.
High Mechanical Strength and Excellent Tensile Strength. OPTICAMESH products are able to bear High Loads without significant deformation.
Cracks are prevented because of good Chemical Corrosion Resistance and High Warp and Weft Strength.
Distortion minimized because the stress is equally spread in Different Directions. OPTICAMESH products performs as "Soft Steel" in Constructions.
Due to its inorganic nature OPTICAMESH products does not support combustion. They are able to with stand elevated Temperature.
OPTICAMESH products neither attacked by most chemicals nor adversely affected by fungus, bacteria or insects.
OPTICAMESH and OPTICAMESH WP are not absorbent and therefore not prone to swell, corrode, rot or disintegrate. These properties are very useful for joints and water proofing.
OPTICAMESH products are light weight, flexible and easy to apply.
OPTICAMESH WP is thin, pliable, cuts effortlessly, lies flat at 0 level. These properties are very important for waterproofing coasting and gypsum plaster reinforcement.
AVAILABILITY
OPTICAMESH
145 gsm – 50 m roll - 100 mm, 150 mm, 200 mm, 1000 mm
110 gsm – 50 m roll – 100 mm, 150 mm, 1000 mm


OPTICAMESH WP
45 gsm – 50 m roll – 1000 mm